The Bard & Sir S.Quirrel
was just checking out the daz Squirrel hubby got me...and these happened..
I think I am going to do a series...prolly a ranger and mage next...he's just so damned cute

and I know that the Sir one has some glaring flaws...like shadow over the background that doesn't beling there etc...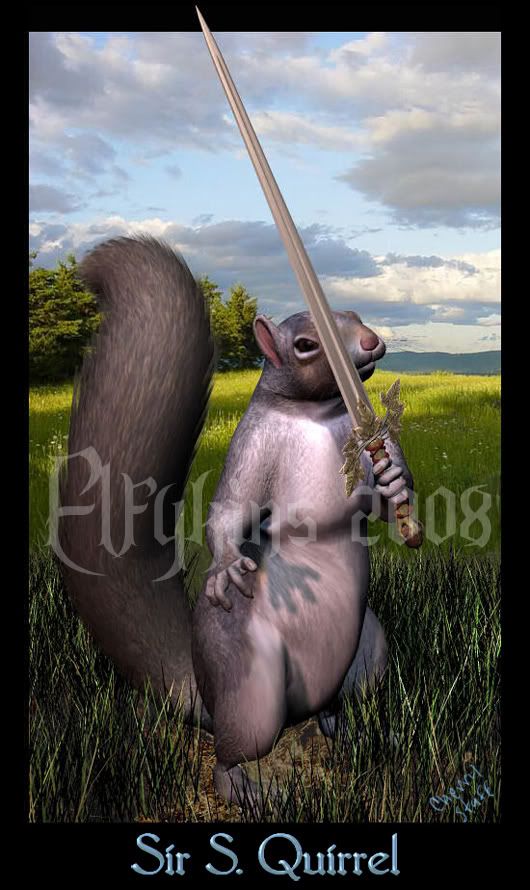 Credits, The Bard:


Daz squirrel...
pose n lights by me
the Luth (mandolin thingy) was a freebie I think
grass in foreground was a sharecg freebie
ground under the grass is from

Background is from





Credits, Sir S. Quirrel

Daz squirrel
DNA bladez2 Elven Blade
grass prop was a freebie from sharecg
Background was from a pic hubby had on his puter...think his mom took it
Temprah
14 years ago
*squees* These are TOO adorable =D
Lillaanya
14 years ago
omg that is too freakin cute!!
Elfykins
14 years ago
thank you
the first one...holding the sword..made me think of Brian jaques books...and well, it went from there
ladyduece
14 years ago
These really are too adorable! Hope to see more with him =)
Darsa
14 years ago
Hehehe! Daughter and I got a good giggle out of these. Love 'em!
Elfykins
14 years ago
thanks
hubby says I am whacked..lol
first thing he said to me was um...baby...squirrels don't have swords...
he has NO imagination sometimes...
ROzbeans
14 years ago
How friggin cute are those?! It's great to take time off of poser honeys and get to just being silly.
le