"Giant Bunny Rabbit!" --Sketch Topic for 7/11-7/17
The title says it all. I know you guys have been holding out for the perfect topic -- lucky you! It's here!

Imagine how your life will change for the better, how your kids/parents/brothers/sisters/significant other/spouse will love and respect you after you show them your fast-and-easy sketch of a Giant Bunny!...and yes, you're welcome for this wonderful opportunity!
Lessa
12 years ago
but..but... what if its the bunny from Monty Python and the Holy Grail, only gianter?! *shudder*
Dia
12 years ago
He just wants to hold you and hug you and call you GEORGE!!!!!!!!!!!
Wystro
12 years ago
Yay, Dia! I love him!!
Dia
12 years ago
thank you! he's so cuddly!
Wystro
12 years ago
This is mine...I almost missed the deadline of my own thread!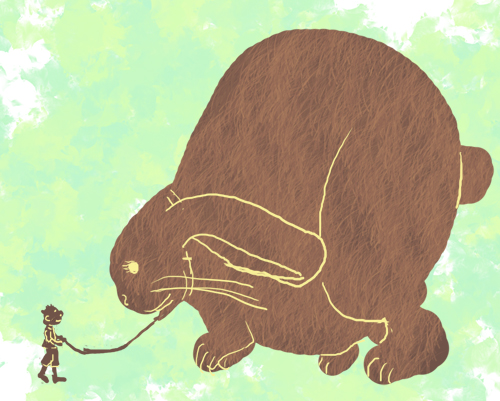 ShutUpSara
12 years ago
BUNNEH!!! My bunny is floofy and chocolate and real, so I scanning/other uploading is just painful and wrong